I VANT TO BE YOUR MENTOR. (For Pitch Wars, specifically)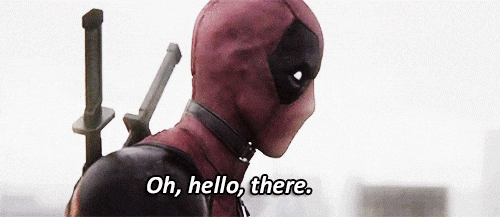 Hey there Pitch Wars peeps and writer friends! It is time for Ye Olde Wyshlyste for Pitch Wars 2016! I'm so stoked to be able to be part of this contest, and can't wait to sink my claws into an amazing manuscript. Maybe yooooouuuurrrs.
So first, a little about yours truly. I am
rianna Shrum (see what I did there? With that B? The giant symbol for Boron? That's the secret letter for the scavenger hunt. B. Like Bri. But also Boron. Boom.) I'm a YA author from Denver, Colorado. I'm totally obsessed with gaming (tabletop and video games) and superheroes, and I love all things dark, magical, and strange. My first novel, NEVER NEVER, a YA crossover retelling of Peter Pan from Hook's POV, came out in September of last year from Spencer Hill Press. My second, HOW TO MAKE OUT, a YA contemporary romantic comedy, comes out from Sky Pony Press September of this year!
I will give you in-depth critique, honesty (but not brutal honesty; I don't think you have to be brutal to be honest. I WILL tell you in no uncertain terms exactly what I think needs to be done and why, and will not shy away from any of that stuff big or small, but I'll also gush over everything I love) and ideas on the big and little things in your book. My specialty is CHARACTER, RELATIONSHIPS, and TENSION. These things are my greatest loves, and the things I'm best at! Though I'm always down to help you with atmosphere, world, and plot if that's what you need!
I've had success with contests in the past, so I'll bring that experience to the table to help make your entry shine!
So this year, I'm mentoring YA, and I'll be looking for TWO THINGS within that category: Fantasy, and Space Opera.
Nothing outside of YA fantasy or space opera this year, folks! There are some amazing mentors who are looking at those other things !
SOOOO, within YA fantasy and space opera,
there are several things that I just LOVE, cross-genre, and I will die of happy if I see them in my inbox.
*ANTI-HEROES, VILLAINS, BAD BOYS, BAD GIRLS, like yes. Puh-lease.
I loooove, more than anything, characters who are conflicted, who are bad, who want to be good but don't know how to be, or who are just downright evil. Give them all to me, please. I love me a good hero, too! So don't count them out, but delicious villains, and anti-heroes, and grey morality are my crack.
(Why yes. Yes I DO ship the helllllll out of it.)
Give me TENSION. Sexual tension, friend tension, stakes that have the world at its end—what I want, ultimately, is something that makes me feel breathless. Where it's tense enough I can feel it on my skin.
*SEND ME YOUR QUEER TEENS PLEASE OK
That is all. Please to send them
I'm just a sucker for it. That is all. PARTICULARLYYYYYY UNLIKELY/IMPOSSIBLE ROMANCE.
***And just fyi, peeps, I would hope this goes without saying, but stuff that reflects diversity is ALWAYS 1000% welcome here***
So within sci-fi, what I want SPECIFICALLY is space opera. I'll write up a list of my favorite space opera movies/shows/games near the end of this post. This is the only sci-fi I will take this year. Because I am OBSESSED with it. Serious, lighthearted, aliens, no aliens, like literally WHATEVER. GIMME YO SPACE STORIES.
Fantasy was my first love, and we're, like, basically in a committed relationship now, so.
I am NOT LOOKING FOR: Urban Fantasy, Paranormal, or Contemp Fantasy unless that contemp fantasy involves time travel ORRRRRR a totally kickass setting. Somewhere weird or cool or, idk. Something with the atmosphere of Maggie Stiefvater a la The Raven Boys or The Scorpio Races, or something set in Alaska, possibly. Because I love Alaska. SO YEAH, contemp fantasy ONLYYYYY if the setting is super kickass or it involves time travel. The rest of these things are great, just not in my wheelhouse!
PLEASE SEND ME YOUR:
-Side note: If someone sent me a fantasy set in the French Revolution I would FLIIIIIP
*Fae (ONLY in a high fantasy world, not urban fantasy)
I'll list specific comps down below, but basically, give me yo fantasy, lovelies!
TITLES AND CHARACTERS I LOVE
SEND THINGS LIKE THIS TO ME PLEEEEASE
(BONUS POINTS to whoever can tell me what ship this is ;) )
-I also love the exploration of AI vs. biological people
-Ok like just literally everything about it
-Best if your characters aim to misbehave ;)
*A Court of Thorns and Roses and ESPECIALLY A COURT OF MIST AND FURY
-MANON BLACKBEAK sweet lord
*A Darker Shade of Magic/ A Gathering of Shadows
-oh Lila, oh Kell, oh Rhy, oh Alucard—this series is me at my most bi.
-oooh yaaaaaasssssss the antiheroes! The world! THE KAZ BREKKER
*The Wrath and the Dawn
*The Scorpio Races
-The Atmosphere. PLUS most of my heritage is Celtic, so I love ALL THINGS CELTIC
*Outlander
*The Winner's Trilogy
-Fantasy does not necessarily need magic to be fantasy, yo!
-SPECIFICALLY THE DARKLING OK
*AVATAR: THE LAST AIRBENDER
-Zutara is the ONLY SHIP FIGHT ME
*DRAGON AGE OMG DRAGON AGE THOUGH I am Bioware trash
*Shatter Me series, specifically WARNER.
Random Facts About Me/My Interests That Might Help
*I am a Slytherin. Hissssssss.
*I play the violin (Both acoustic, and this badass electric viper violin). Music SLAYS ME.
*I will fall just DEAD IN LOVE with a character with realllllll power. Destroy me with power dynamics.
*I love twisty politics and intrigue.
*My number one fictional crush is the Darkling. Loki, Rhysand, Irial, and Zuko are close behind.
*If I could invite 7 characters over for a fictional dinner, 1 being seated to my left, 7 being to my right, and all the places in between being situated around the table, I would invite: 1. Nina Zenik 2. Uncle Iroh 3. Zuko 4. Alistair (Dragon Age) 5. Lila Bard 6. Sevro 7. Rhysand
*I like spiders, and snakes, and monsters, and worlds with teeeeeth.
*My fave scenes to read and write are one-on-one murder, and the moments just before a kiss. Because they are intimate and reveal character like whoa.
That's about it, friends! Feel FREE to ask me any questions over on Twitter (my username is @briannashrum) and HAPPY PITCH WARS-INGGGGG!
Happy writing.
Happy pitching.
And FIND THE AVATAR.
1.

2.

3.

4.

5.

6.

7.

8.

9.

10.

11.

12.

13.

14.

15.

16.

17.

18.

19.

20.

21.

22.

23.

24.

25.

26.

27.

28.

29.

30.

31.

32.

33.

34.

35.

36.

37.

38.

39.

40.

41.

42.

43.

44.

45.

46.

47.

48.

49.

50.

51.

52.

53.

54.

55.

56.

57.

58.

59.

60.

61.

62.

63.

64.

65.

66.